Cool DOS Utilities: D and Glance
This web page is dedicated to two cool utilities I was introduced to by my cool Uncle way back in the early nineties. They made using MS-DOS a lot easier for me, and now they can make DOS a lot easier for you too.
They are:

D.COM, or 'Listing Service [LS] version 8.0a by artSHLEE; Sang-hyun. Update by artSHLEE & YongHyun in Korea Univ. Electrical Engineering'
Glance Version 1.0 by Joost Schipperheijn.
D.COM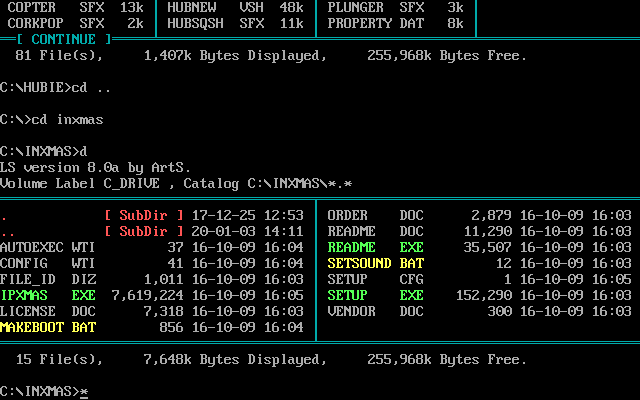 D.COM is a very small (4,535 bytes big), very fast file listing application that is miles prettier and comfier to use than MS-DOS DIR. It works perfectly in DOSBOX, and I highly recommend you put the D.COM executable into your PATH! I suppose its real name is LS.COM, but that's going to get mixed up with the Unix utility that works entirely differently, and I've always known it as D.COM.
By default D will show a two column display with the entries sorted by filename. Batch files, executables and COMs will all be highlighted. If you navigate to a folder with many files, it will default to a four column display automatically, and give you paging options on Page Up and Page Down.
If you want to sort by extension, you can use the switch /en, which sorts by extension then name ascending.
You can still of course use wildcards to search for specific filename patterns or extensions, like D.COM *.exe. There are lots of other options too if you use the /? switch.
If you want sorting by extension to be the default, there is an environment variable LS_OPTIONS which acts as the default switches (SET LS_OPTIONS=/ena in your AUTOEXEC.BAT). You can also customise the colours used for extensions if you want.
Glance
Glance is a straightforward menu application for DOS. Pressing the appropriate key or using the mouse cursor launches the game. When the game is exited, Glance will automatically reload.
It makes for a somewhat more kid-friendly interface if you have a lot of games installed! You could add Glance to your AUTOEXEC.BAT to make your MS-DOS or DOSBOX system automatically boot into your fancy game menu.
There are four screens of 21 items; you can toggle between the pink and blue menus with Tab, and you can hold Space for a 'hidden' menu below.
Glance is shareware, though I'm not certain that after 28 years these details are still valid.
For more information please consult Glance's internal help system.
If you're reading, Joost, thanks for the menu. :)
THE SOFTWARE IS PROVIDED "AS IS", WITHOUT WARRANTY OF ANY KIND, EXPRESS OR IMPLIED, INCLUDING BUT NOT LIMITED TO THE WARRANTIES OF MERCHANTABILITY, FITNESS FOR A PARTICULAR PURPOSE AND NONINFRINGEMENT. IN NO EVENT SHALL MRDICTIONARY.NET BE LIABLE FOR ANY CLAIM, DAMAGES OR OTHER LIABILITY, WHETHER IN AN ACTION OF CONTRACT, TORT OR OTHERWISE, ARISING FROM, OUT OF OR IN CONNECTION WITH THE SOFTWARE OR THE USE OR OTHER DEALINGS IN THE SOFTWARE.